Nusa Penida Island Tour
Destinations :
Option 1.

East nusa :
Atuh Beach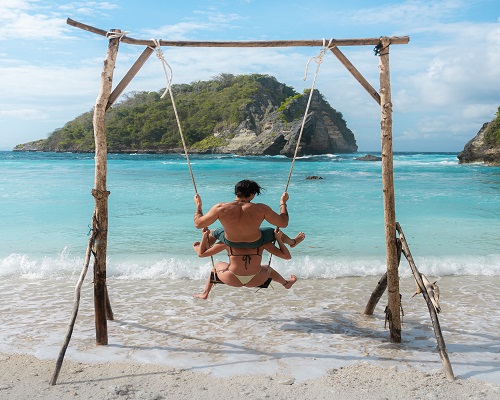 Atuh beach is a beach located in the eastern area of ​​Nusa Penida, is a very popular new tourist attraction in Nusa Penida because this beach offers natural beauty with clear water and the atmosphere of the beach surrounding the cliffs adds to the beauty of this beach. Atuh beach is perfect for swimming with a stretch of white sand to make the atmosphere more beautiful swimming. To reach the beach location or you can go down the stairs provided, you need good stamina to be able to go down the road to the beach. no wonder if this beach is very popular among domestic and foreign tourists because this beach is suitable for those who want to enjoy the atmosphere of a calm beach, not crowded and the scenery around a beautiful beach

Diamond Beach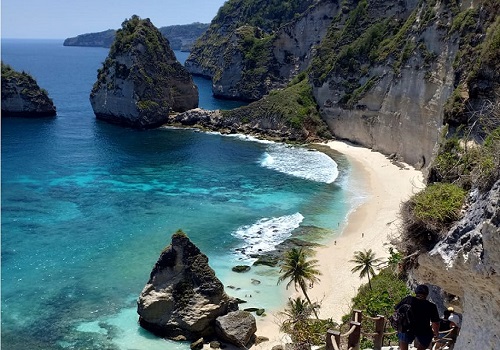 Diamond Beach is a beach that was just introduced and immediately attracted attention to foreign and domestic tourists, where the beach is no less interesting than other beaches in Nusa Penida, with white sand and clear water making this beach frequented by tourists who visited the eastern region of Nusa Penida. In addition to white sand and clear water, the scenery around Diamond Beach is also beautiful where the beach is surrounded by cliffs. Local people call this beach as diamond beach because in the middle of the beach there are rocks which if seen as diamonds shape, so the locals call this beach with name diamond beach. To get to the beach you need to walk through the stair down was provide in this beach, need good stamina for go back through stair up.

Pulau Seribu/Raja Lima
Before you arrive at Raja Lima, you have to go through Thousand Islands first. The difference is only one, which is in the spot of King Lima, there are statues, while there are none at Seribu Island.In order to reach this location, you have to trek through steep and rocky roads. For those of you who are not used to trekking, you should keep the spirit going because at the end of the trekking trip you will be presented with an amazingly beautiful scenery.

Tree house/ Rumah Pohon Molenteng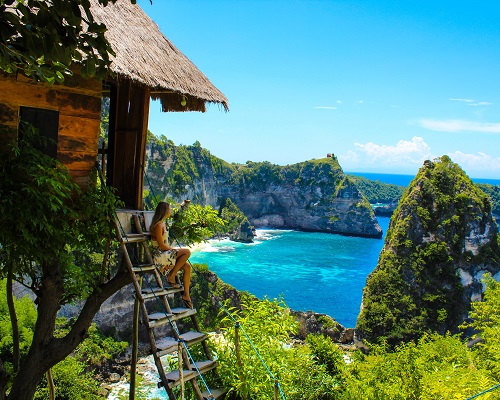 Tree House Molenteng is a small wooden house located on a rock cliff with views of a stretch of beach, this tourist attraction is very famous in the east because it offers a beautiful view of the beach from a tree house, from this place you can see the stretch of beach from above and see the waves that hit the rocks and cause splashes of water that are very beautiful. No wonder this place is very popular with foreign and domestic tourists because it offers a different sensation. The location of the Molenteng tree house is not far from the Diamond Beach location, often visited by tourists after visiting the Diamond Beach. this place is very suitable as a background for photography, our driver will always help you if you need help taking photos with the camera

Bukit Telletubies hill
Telletubies Hill is a tourist attraction in the eastern area of ​​Nusa Penida, where this tourist attraction offers a very beautiful hill view, where the shape of the hill is shaped like hills in teletubis films with round shapes and green grass, because the shape is similar to the shape of a hill in the teletubis film, the locals call this hill the name teletubies hill. in this place the hill is not just one but there are several hills that are the same shape as the teletubies hill, truly a very beautiful and amazing scenery, suitable as a backdrop of photography. The green grass and cool atmosphere make this trip more enjoyable, Enjoy an incomparable view of the beauty of this place, our driver will always help you capture the moment with the camera in this place.

Option 2.
West Nusa penida :

Broken beach
Broken Beach is a scenic coastal formation on the southwestern edge of Nusa Penida. The spot is marked by a hilly rock arch, which is the star landmark of the area. Also known by its local name – Pasih Uug – this is a great spot for travel photographers and anyone who wants to enjoy stunning panoramic views. You can watch the waves crashing in from the Indian Ocean and, if you're lucky, you may spot silhouettes of giant mantas near the surface of the deep blue water. The adjacent area is also home to grey long-tailed macaques.


Angels billabong
Angel's Billabong is a spectacular rock formation near Pasih Uug (Broken Beach), on the southwestern end of Nusa Penida Island. Both spots offer views of beautiful cliffs and pristine coastlines. There's a pathway leading to a naturally formed rock lagoon, offering a scenic seascape and pleasant swimming spot on the island.


Kelingking beach
Kelingking Beach lies within the village of Bunga Mekar, on the southwestern coast of Nusa Penida Island. One of its most popular landmarks is a plant-covered limestone headland, with massive waves crashing against it. This unique formation resembles the shape of a T-Rex's head, so Kelingking is often called the T-Rex Bay of Bali.

Crystal bay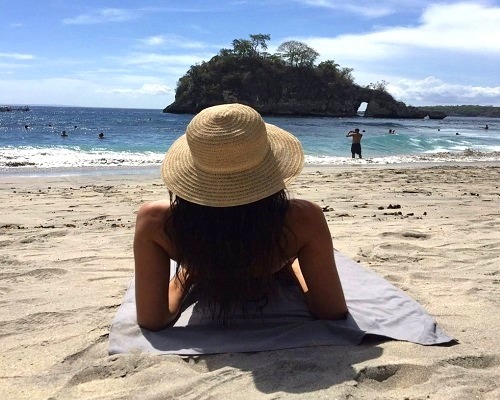 Crystal Bay is one of the famous objects in the village of Nusa Penida, this place is the last place visited in Bali West Nusa Penida Tour packages. This place is also famous for the beauty of the beach and is often used by tourists for swimming, snorkeling and sunbathing on the beach. On the beach there are some coconut trees which make the view on the beach more beautiful. With clear water and calm waves, this place is ideal as a place to snorkel in Nusa Penida. The name of the Crystal Bay comes from beach water, when exposed to sunlight it will flicker like many crystal beads on the beach, so the local people give the name of this beach as Crystal Bay. Is perfect place for spend the time till time departure to Nusa Penida port for back to Sanur port.
Price Include :

Pick up from hotel in south bali area, Ticket Fastboat Sanur - Nusa Penida (Return)
Private Tour (not joint with others)
Car Full AC + Drivers
Lunch (restaurant)
Enterence fee to all spots
Mineral water, Return transfer bali-nusa penida'Bali
Price per person/ Pax Total
1 pax Idr 1.200.000/pax
2 pax Idr 850.000/pax
3 Person Idr 800.000/pax
4 Person Idr 700.000/pax
5 Person Idr 650.000/pax
6 person Idr 600.000/pax.
We can do 2 Days and 1 Night Tour in nusa Penida Island.. or we also just Organize Cars Only in Nusa... and also Past Boat ticket Only.
For more information please contact us
Tags :
np